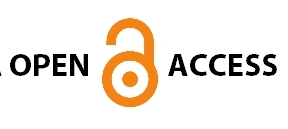 Open Access - means free, universal, permanent and immediate access for every network user to digital forms of data recording and scientific and educational content. The Open Access policy adopted by KOMAG is based on the belief that openness is the foundation of science development. It aims to enable authors to increase the citation of scientific papers by placing electronic versions of published articles in reference databases, in scientific repositories and on websites. Immediate distribution of research results contributes to the growth of new knowledge and the increased impact of research on the development of science.
Therefore, the authors of articles qualified for publication in the Mining Machines Quarterly and scientific monographs (conference proceedings) are obliged to transfer to the Publisher (KOMAG Institute of Mining Technology) the rights to use the prepared text and its publication in an electronic version on the Publisher's website or to grant the Publisher a license free of charge to use and dispose of developed publication while maintaining the author's property rights.
The content will be published under the Creative Commons Attribution License - NonCommercial Use 4.0 (CC BY-NC 4.0).
Attribution – Noncommercial 4.0 Poland – This license allows you to copy, change, remix, distribute, present and perform the work only for non-commercial purposes. This condition does not, however, cover dependent works (may be covered by another license) https://creativecommons.org/licenses/by-nc/4.0/